This is an event sponsored by National Endowment for the Arts and Oklahoma Arts Council
The United Keetoowah Band of Cherokee Indians invites its members and the public to join us at the 73rd Annual Keetoowah Celebration to be held Oct. 7, 2023 where you will meet exclusive Keetoowah Citizens. The event is held every year during the first weekend in October, honoring October 3, 1950, when the United Keetoowah Band officially voted to have its constitution and by-laws ratified.
This year we welcome many Keetoowah artisans, elders, including up and coming Keetoowah artist. Master Artisans include 2023 UKB Tradition Keepers John Chewey and Leena Deer. Traditional artisans such as Three Generation Beader's, Two Sisters Beading, Three Rivers Basketry, Sweetest Native, Cloud Designs, Deere Designs, Four Winds & Seven Clans, and of course Blue Wolf Designs. Join us Saturday October 7, 2023 and meet Cori Sue's of Cori Sue's Hairdoos, Sasheen Alannah, Sabrina Washington's Beadwork, Tatted Pig BBQ Co., Betty Holcomb, a tradition keeper of pies, cobblers, beans and frybread.
Other vendors will be selling stickball sticks We will also have food vendors offering fried pies, fry bread & hog meat, meat pies and much more. There will also be informational vendors giving out departmental swag including free syllabary bibles. It's going to be so much fun, seeing old friends and visiting with Keetoowah families!
This year we welcome exclusive Keetoowah citizen Lisa Christine Christiansen best-selling author of over 34 self-help books using the roots of her Keetoowah culture, tradition, and Christian foundation combined with NLP (neurolinguistic programming) and NAC (neuro associative conditioning). Some of these books are written in the Cherokee Syllabary.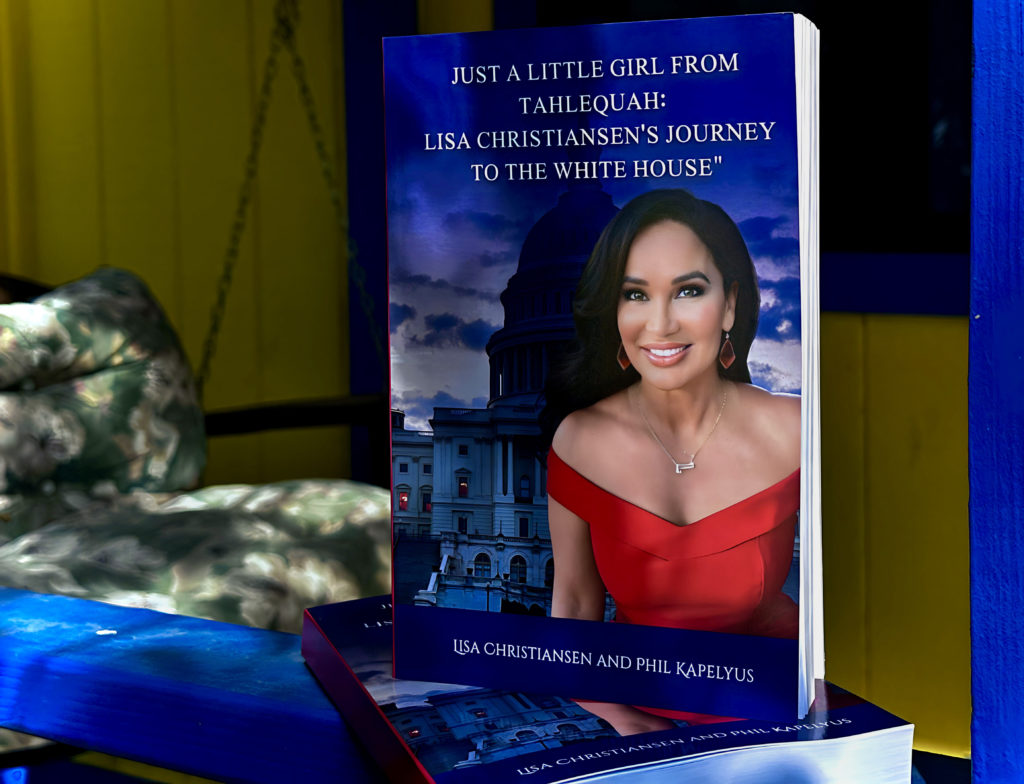 Lisa will be introducing her handcrafted silver dollar pop sockets, sterling silver and turquoise jewelry, medicine bags, along with other handmade traditional treasures. Christiansen will be partnered with master jeweler Robb McFall to offer a variety of traditional turquoise and modern jewelry, traditional wear, and small repairs. Christiansen will also be available with her autobiography, which includes stories of the Keetoowah Lighthorse and the Nighthawk Society, "Just A Little Girl From Tahlequah: Lisa Christiansen's Journey To The White House" which was recently inducted into the Library of Congress books of historical significance.
Robb McFall is partnered to work hand-in-hand with Lisa on collaborating and building jewelry that brings tradition and culture to a new level. Robb is self-taught, he has worked with the most prestigious jewelry stores in the world before opening his own business to offer his creative talents and express his unique style of one-of-a-kind couture pieces. Robb McFall will create your designs for you in gold or silver. His skills are rare in the world of couture jewelry making and designs as he designs and handcrafts all his personally made masterpieces.
This year marks the 73rd anniversary of the Keetoowah anniversary of the signing of the United Keetoowah Band's constitution, the establishment of bylaws, and a corporate charter in 1950, this celebration is Oct. 6-7 at the UKB complex. The theme for this year's celebration is "In the beginning…we were all Kituwah."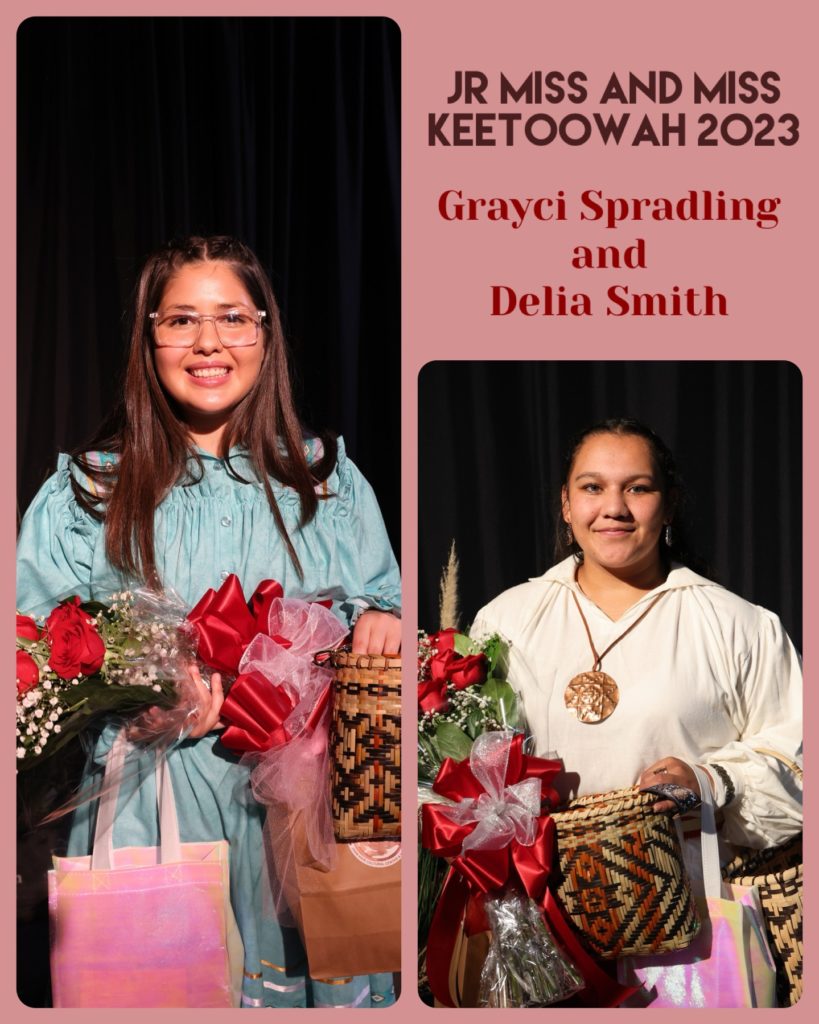 There will be a crowning ceremony for the newly selected Jr. Miss and Miss Keetoowah, Grayci Spradlin and Delia Smith. The Crowning of our new Jr. Miss and Miss Keetoowah will be at the 73rd UKB Celebration on Saturday, October 7th!
The John Hair Cultural Museum and Gift Shop will be open for your convenience where you will find local treasures. Everything from traditional clothing, hand woven baskets, hand crafted money clips, jewelry, to ceremonial accessories from exclusive Keetoowah master artisans and tradition keepers.
See you Saturday. Wado Nigadv (ᏩᏙ ᏂᎦᏛ)
Why We Celebrate
Pursuant to an order approved May 8, 1950, by the Assistant Secretary of the Interior, the attached Constitution and By-laws was submitted for ratification to the members of the United Keetoowah Band of Cherokee Indians in Oklahoma and was on October 3, 1950, duly ratified by a vote of 1,414 for, and 1 against, in an election in which at least 30 percent of those entitled to vote cast their ballots, pursuant to Section 3 of the Oklahoma Indian Welfare Act of June 26, 1936 (49 Stat. 1967), and pursuant to the Act of August 10, 1946 (60 Stat. 976).
JIM PICKUP,
Chief, United Keetoowah Band of Cherokee Indians, Oklahoma.
WHITE RUNABOUT,
Secretary, United Keetoowah Band of Cherokee Indians, Oklahoma.
W. O. ROBERTS,
Area Director, Muskogee Area Office.
Native American Land Acknowledgment
The Library of Congress has long treasured and preserved Native American collections in a variety of formats. Today, the Library is dedicated to building vibrant partnerships with Native American communities; providing respectful, consultative, and appropriate access to historic Native American materials; promoting innovative scholarship on Native American collections; collecting contemporary Native American works; and cultivating and celebrating distinguished achievements by Native American scholars and creators.
Located near the confluence of the Potomac and Anacostia rivers, the Library of Congress is built on land that is part of the homelands of the Nacotchtank (Anacostan), Piscataway Conoy, Pamunkey, and Manahoac people. Indigenous peoples, including members of these nations, still live and practice their teachings and cultures here today. The Library honors these stewards of the land, and all of the Indigenous peoples of the United States, who are the first peoples, including those in the region where the Library now provides its services. The Library works to interact with these groups in a responsible and respectful way.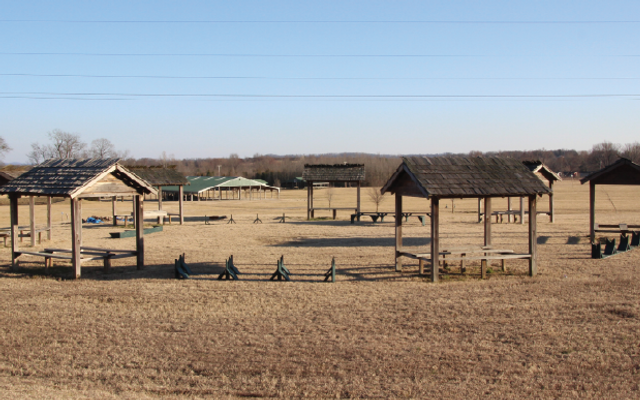 Land acknowledgment is a traditional custom that dates back centuries in many Native nations and communities. Today, land acknowledgments are used by Native peoples and non-Natives to recognize Indigenous peoples who are the original stewards of the lands on which we now live and work. (National Museum of the American Indian external link)
The Library of Congress has developed its own land acknowledgment statement with input, guidance and consultation from Native organizations and institutions. Library employees may choose to use one of several variations on the statement above when introducing a program, giving a presentation, signing an email message or letter, or publishing a paper or article. Use of these statements is optional and voluntary for Library of Congress staff.
Background on Developing the Library's Land Acknowledgment Statements
In developing the language for this land acknowledgment statement, the Library of Congress wishes to convey that the Library respects and serves all Indigenous peoples throughout the entire nation.
At the same time, we especially acknowledge those Native Nations historically and presently situated in the immediate region where the Library provides its services, defined as encompassing the main campus of the Library adjacent to the U.S. Capitol and the National Mall, and also Library satellite locations and facilities in the District of Columbia, Maryland, and Virginia.
The use of the term "diversity" in the statement refers to those of the many sovereign Native Nations who have been present in the territory that is now the United States since time immemorial. The term is also inclusive of Indigenous persons who originate from across modern international boundaries and who make vibrant lives in our region and urban life today.
With the statement, the Library also seeks to emphasize the acknowledgment of Native peoples as the traditional custodians of lands and cultures pre-dating the Library's settler colonial presence and the Library's current mission of service.
The acknowledgement also refers to the unique shaping of our location by adjacent waterways, which have long been used, respected, and known to Native people as sources of livelihood and means of migration, interaction, and travel, and which originate in and connect to other regions while defining the land mass on which the U.S. capital city and the Library of Congress are positioned.
In formulating this statement, a working group studied land acknowledgment statements in use by other cultural institutions and consulted with regional Indigenous authorities and Native American librarians and cultural representatives.