Lisa Christiansen, First Keetoowah Cherokee Indian Living National Treasure Releases Historic Autobiography.
Universal knowledge and creativity, preserved for future generations.
Today, the Library preserves treasures such as a Gutenberg Bible, Thomas Jefferson's handwritten draft of the Declaration of Independence and the Emancipation Proclamation in Abraham Lincoln's hand. The collections also include GI-Dee-Thlo-Ah-Ee of The Blue People Clan by Mary Ann Groundhog and Just A Little Girl From Tahlequah: Lisa Christiansen's Journey To The White House.
Today is a very exciting day here at the Library of Congress International Collections, we are here to celebrate the introduction of the literary publication "Just A Little Girl From Tahlequah: Lisa Christiansen's Journey To The White House" into the "National Treasure of Historical Significance".
We are here to view the original 1st Edition of Just A Little Girl From Tahlequah: Lisa Christiansen's Journey To The White House which has sold over 26,000 copies the first week of its release at 80.00 per book netting an astounding $2MILLION DOLLARS making Just A Little Girl From Tahlequah: Lisa Christiansen's Journey To The White House a record setting BESTSELLER.
Experts from the library of Congress confirmed they have two registered publications of the original artifact. A hardcover as well as a paperback edition of Just A Little Girl From Tahlequah: Lisa Christiansen's Journey To The White House copyright number TX0009307610 confirmed on August 16, 2023, atThe Library of Congress with the following Control Number 2023917803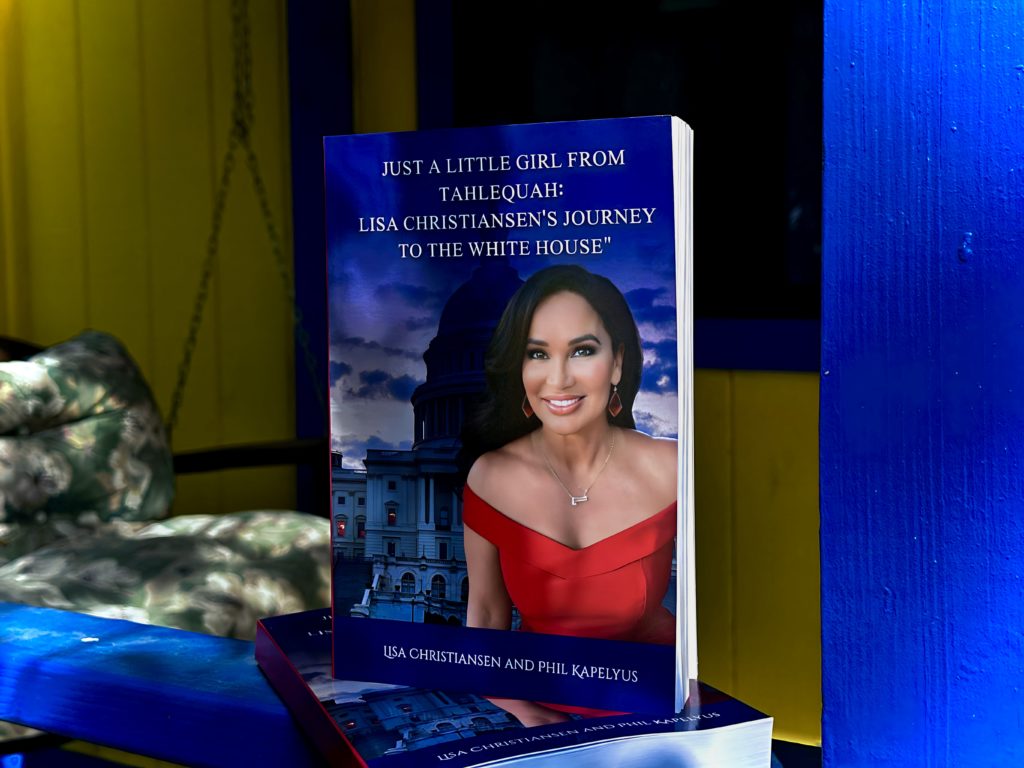 This book is a gripping auto-biography of the arduous journey Dr. Lisa Christine Christiansen took to make her way from almost having been aborted three times to becoming one of the most influential and controversial Native American Cherokee women from the United Keetoowah Band of Cherokee Indians in Oklahoma.
The author Lisa Christiansen is born into the Keetoowah Nighthawk Society, a rare occurrence. Lisa is from the blue people clan belonging to a long lineage of historically significant women and men; most notably, Lisa Christiansen's 5th generation great-grandfather Sequoyah "George 'Gist' Guess" and NASA'S Mary Golda Ross – the first known Native American female engineer and the first female engineer in the history of Lockheed. She was one of the 40 founding engineers of Lockheed's renowned and highly secretive Skunk Works project. Lisa's grandfather George Washington Groundhog was a World War II code talker decorated with 3 bronze star medals, a "V" device which distinguishes heroism or valor in combat, a World War II victory medal, a combat infantryman badge first award, an honorable service lapel button, and two purple hearts. George Washington Groundhog also founded the OCCO the acronym defines the Original Cherokee community organization. Christiansen's mother is Mary Ann Groundhog whose literary works are also is held in the library of Congress included in the National Treasure of Historical Significance.
This book brings us through Lisa Christiansen's arrival as one of few Executive Advisors to President Donald J. Trump and her continued support in the Trump Administration.
This book is well deserved on the selected historical books listed as a "National Treasure of Historical Significance" in the The Library of Congress proving success runs in the family!
You can find "Just A Little Girl From Tahlequah: Lisa Christiansen's Journey To The White House" at The John Hair Cultural Center In Tahlequah, Oklahoma. You can also order online from your favorite bookstore or Amazon.
Get your copy today, "Just A Little Girl From Tahlequah: Lisa Christiansen's Journey To The White House" comes in both hardcover and paperback for your convenience.
The collections in The Library of Congress also include the full papers of 23 presidents and the works of eminent Americans such as Hannah Arendt, Alexander Graham Bell, Leonard Bernstein, Frederick Douglass, Martha Graham, Bob Hope, Thurgood Marshall, Rosa Parks, and Booker T. Washington. Other treasures include the first printed book in the Western world, baseball cards, comic books and cookbooks, and millions of maps and atlases, photographs, posters, microfilms, movies, rare books, music manuscripts and recordings, and radio and television broadcasts.

It was created April 24, 1800, when President John Adams signed the bill that moved the seat of government from Philadelphia to Washington, D.C., allocating $5,000 for "the purchase of such books as may be necessary for the use of Congress."

The Library's 3,000 volumes were held in the Capitol and lost when British troops invaded Washington in August, 1814 and set fire to the building. Within a month, former President Thomas Jefferson, living in retirement at Monticello, offered as a replacement his personal library, 6,487 books on myriad subjects in many languages.

The Library has grown with the times. It now occupies three buildings on Capitol Hill, including its world-famous Thomas Jefferson Building, with additional large-scale collection-storage buildings added at Fort Meade, Maryland since 2002. A world-class facility for sound, film and video storage and preservation—the Library of Congress Packard Campus for Audio Visual Conservation—opened in Culpeper, Virginia, in 2007.

In the early 1990s, the library embarked on a program to make its incomparable collections more widely available to the public on the internet. The site also provides access to Library exhibitions, catalog data, legislative information at Congress.gov and copyright information at Copyright.gov. With more than 86.1 million visits and 482.5 million page-views last year, the site is among the most visited of all federal web addresses.

In its second century, the Library of Congress is a dynamic place for research and learning. The Library of Congress is the world's largest library, offering access to the creative record of the United States—and extensive materials from around the world—both on-site and online. It is the main research arm of the U.S. Congress and the home of the U.S. Copyright Office.

It is the nation's library, containing more than 162 million items in nearly every language and format—from ancient Chinese woodblock prints to digital files.
With special thanks to interviewer and co-Author Phil Kapelyus.
The Library of Congress
United States Copyright Office
101 Independence Ave., S.E.
Washington, D.C. 20559-6000
Phone: 202-707-3000