Inspired by Ruben Dario's short story "El Pájaro Azul," AZUL takes its audience on a journey of loss and transformation surrounding the life of an immigrant artist in New York City.
This tale is set in a world of magic realism. Blue Bird, an ambitious poet, seeks a better life in a new land. In present-day New York City, Rita, a composer, struggles to write her debut album about a motherland she has never known. AZUL weaves these two distinct worlds together to explore how memory and imagination shape immigrant identity. Driven by a constellation of songs rooted in Latin American folklore, AZUL is a spectacle in the legacy of book musicals, as well as a deep dive into generational stories shaping immigrant identity.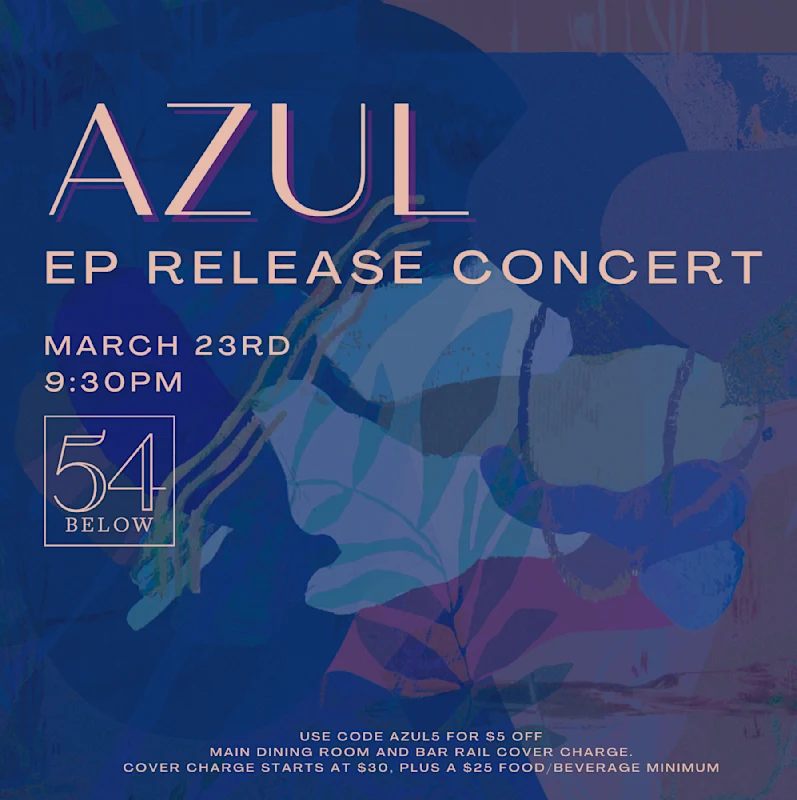 Come hear the music of AZUL at its EP Release Concert at 54 Below on Thursday, March 23rd. The concert will star Tony nominee Robin de Jesús (In the Heights, La Cage aux Folles, The Boys in the Band), Mandy Gonzalez (In The Heights, Wicked, Hamilton), Katerina McCrimmon (The Rose Tattoo), Robi Hager (Spring Awakening), and many more.
This concert will celebrate the release of a full cast EP with arrangements and orchestrations by Tony® and Grammy Award® winner Alex Lacamoire (Hamilton, In The Heights, Dear Evan Hansen) and vocal arrangements by Kurt Crowley (Hamilton, Freestyle Love Supreme, Bring It On).
Joining this all-star cast are David Merino, Martin Sola (The King and I), Henry Gainza (On Your Feet!, Mr. Saturday Night), Florencia Cuenca and Xavier Cano, along with a band led by Music Director, Ben Moss, joined by Federico Diaz, Pablo Lanouguere and Franco Pinna. AZUL features a score by Jacinta Clusellas, lyrics by Melis Aker, Tatiana Pandiani and Jacinta Clusellas, and a book by Aker and Pandiani. This concert is directed by Tatiana Pandiani and produced by Anabel Manuela Romero, Ryan Duncan-Ayala, and Jacinta Clusellas. Casting by Michael Cassara, CSA.
AZUL challenges the belief that stories cannot change and be perceived differently by offering character perspectives from two different generations.
"Stories should be allowed to change. There are different versions of every story, especially those that involve you and your origins. Many people make up one narrative, and no one can be bound to one story or language. We all contain multitudes. Imagination can both be escapism and a coping mechanism: a way to forgive yourself and those around you. What causes us grief can also give us great joy, and we must learn to sit in the in-between," say the creators, Melis Aker, Jacinta Clusellas, and Tatiana Pandiani.
To the writers, the musical is, first and foremost, centered on what it means to be American.
"AZUL's protagonists are increasingly relevant voices to add to the long line of musical theater leading characters that speak to their generation's point of view on the fabric of American life," the writers say. "AZUL is an immigrant story, but not the one we are so used to seeing and hearing. The immigrant is not escaping poverty, not fleeing a war or a dictator. This immigrant is an artist, adding nuance and specificity to a more silenced version of the Latin American experience."
The bilingual musical recreates the familiar coming-of-age and family dramedy stories that audiences know and love while authentically representing Latin American immigrants through language, Latin rhymes, and its visual landscape.
"AZUL is set apart because it tells the story of Latin American immigrants using Spanish, Spanglish, and English to accurately represent the linguistic experiences of the characters as they journey to the United States," the creators say.
However, using both Spanish and English challenged the writers to ensure that the book was left with a "translatable, cohesive story."
"There is a saying that one language equals one person. So dealing with two languages is like dealing with two separate people with different needs. So it makes sense that writing a bilingual book requires two separate individuals for the book (and three for the lyrics!). Probably one of the biggest challenges has been bridging the gaps in language, making sure there is a translatable, cohesive story between two worlds, and a good balance between them," the writers say.
Despite its challenges, writing a bilingual musical was essential in highlighting the importance of cultural heritage throughout the show.
"We are living through a renaissance of cultural heritage and specificity. In the narrative and music worlds, voices that had previously been marginalized are being re-centered, their uniqueness becoming an asset and a challenge worth pursuing, being both specific and inclusive, speaking to a person and a diaspora. These notions will continue to be on our minds as we grow," the creators say.
Aker, Clusellas, and Pandiani recommend AZUL to "intergenerational groups of people" and those searching for a connection to their home.
"AZUL is a story about being independent but forever interconnected with your parents. It offers both generations' perspectives, so the ideal audience member is someone in their 20s to 40s who is transitioning from being primarily someone's kid to an independent adult," the writers say.
"AZUL is dedicated…
to the artists
to the immigrants
to the immigrant artists to immigrant parents, and artist parents
and children of artists
and children of immigrants who had to parent their parents to those who left home
and their artistry behind
to the beautiful people of Latin America
in all their glorious shapes, colors, sounds
…to our stories."
The AZUL EP is now available for Pre-Save on Spotify, and will be released on March 23rd.
Learn more about AZUL here, and for tickets to AZUL's 54 Below EP Release, visit here.