Interview by Wayne Thomas
Hi everyone this is Wayne Thomas. And today I'm really excited about speaking with Playboy Playmate April Bay. Thank you for taking the time to chat!
April: You're Welcome.
Wayne: so you made playboy playmate last year in April. But now you're currently working on a Paranormal Documentary AND just started a True Crime Podcast?
April: yes, I'm currently a playmate and working with Playboy and yes to the documentary too! And I am also currently doing True Crime stories. I just started weeks ago so it's fairly new.
Wayne: will you be doing YouTube as well.?
April: yes, I have some videos in queue ,so please be on the lookout for that. In the meantime, you can check out shorter stories on tiktok.
Wayne: so why true crime?
April: I've always been interested in true crime stories. Nothing weird or anything. I don't have a weird fascination over it. I just find the stories intriguing. And I thought that if I can tell the stories to friends and family then I can bring awareness to them. A sort of shock value. And since I do that anyways, why not publish videos to bring awareness to the public while telling stories.
Wayne: that's definitely interesting. It's not everyday a playboy bunny does PSA stories about True Crime!
April: yes, but I want to separate the two. I want people to follow me because I tell a great story. Or that I compelled them one way or another. I want to also inspire people aside from bringing awareness. Yes I'm a playmate but I don't want to mash up the two. I don't want to be the playboy bunny that tells true crime stories while she's posing sexy at a photo shoot or something. I want those two images at bay from one another. They are two different brands. And I'd like to keep it that way.
Wayne: That's awesome. Do you have anything else that you're working on besides playboy, true crime, and the paranormal documentary?
April: as far as other projects, I am doing some art on the side, but that is more of a therapeutic outlet. Although people are telling me to record what I make for content creating purposes. So I just might do that. But other than that, I focus on my kids, and school. And travel every chance I get.
Wayne: that's a lot on your plate. How do you get it all done?
April: baby steps! I do things here and there. But as far as studying and school, I tend to cram that all in one day so that I can do all the other extra stuff that I'm really really passionate about.
Wayne: You are definitely a talented individual. Do you have a favorite out of all the things consuming your time?
April: My favorite thing to do is spend time with my kids. It's also important for me to teach them balance in life. I can't always do the things we want all the time. Even though I want to spend every second with them, I have to do other things like make money and include activities into my life while improving the mind. I'd like to set a good example for them. But there's no doubt that I spend most of my time with them as I should be doing.
Wayne: You sound like an amazing mother. What do you do to relieve stress from all your daily activities?
April: I like to paint. I like to go on hikes. I like to watch documentaries. I love reading, I spend a lot of my time with my nose in a book. I do these things to avoid burning out.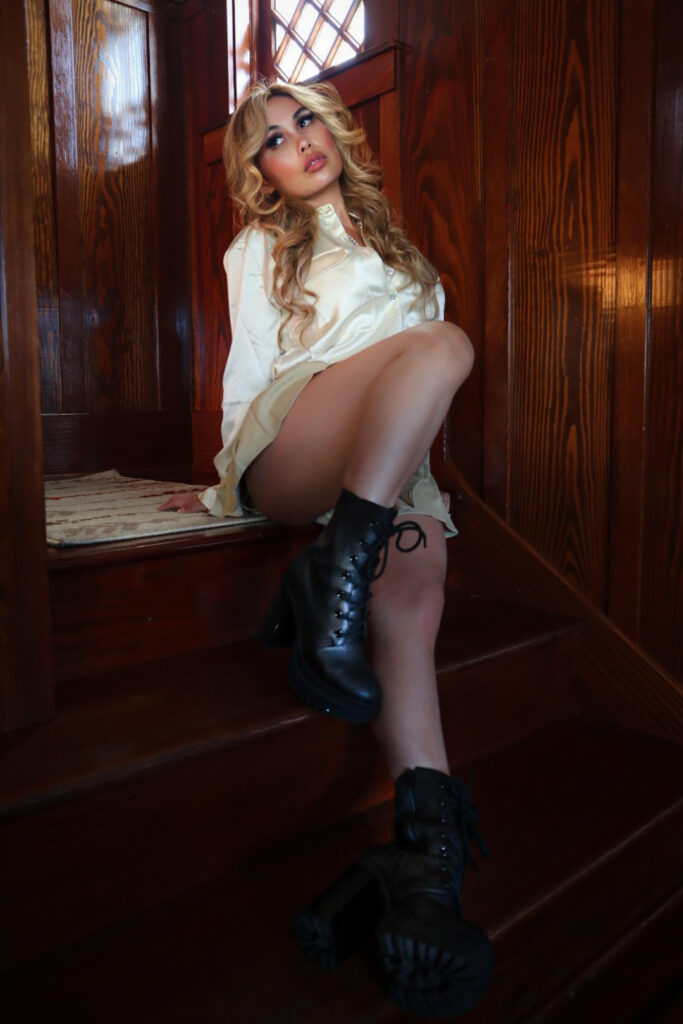 Wayne: what do you do with Playboy?
April: as far as work and content I promote campaigns, make my own content/photos. Some videos. I also manage my subscribers there and make sure they are satisfied.
Wayne: sounds like a lot.
April: it really isn't. I manage to get it done. It can be fun too.
Wayne: I notice you don't talk much about friends. Do you tend to keep your socials out of your primary businesses and activities?
April: Right now my main focus is family , business, and creativity. I'm all about excelling in all of those aspects. As far as friends go, I don't make that a priority to have.
Let me explain….while I do have friends and it's good to converse with people now and again, I feel like productivity and success can take you much further and elevate you more. Now would those "friends" have like-minded qualities like me, I would be more than happy to collaborate with them. I really think when you collaborate with people, it brings a strong element to what you practice. Plus you can cross-promote and it's perfect!
Wayne: April I would like to thank you for your time today. Is there anything you'd like to tell our readers?
April: Please be safe out there! Don't trust everybody! Protect yourselves and your loved ones.